Mountain guide with the whole world as his workplace
Our ambassador Alexander Nordvall is an aspirant mountain guide who spends more time outdoors than in. You'll find him on climbing walls, out hiking and exploring mountains in the summer months. During the winter, his days are filled with ice climbing and ski touring. If you scroll down you'll find some of Alexander's favourite products from Scarpa and Darn Though, which he frequently uses on his adventures. Alexander puts all products to the test in real-live conditions and demands only the best when it comes to performance and durability.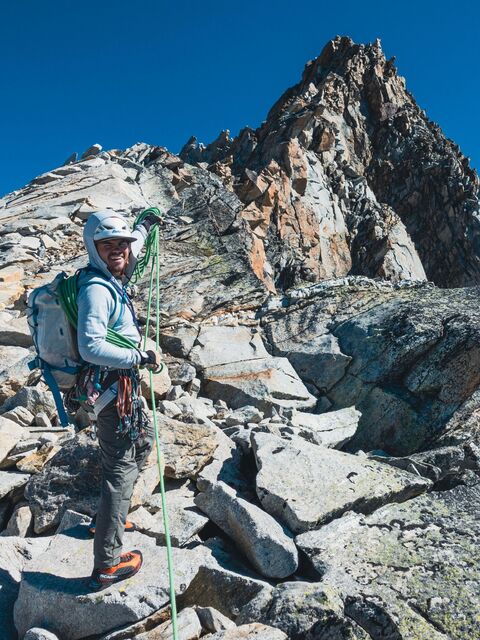 Tell us a bit about yourself and why you decided to train to become a mountain guide?
"I grew up in Gällivare, a small mining community in the far north of Sweden. Where you are surrounded by the natural world and Dundret fell is on your doorstep. In those early years, I spent a lot of time discovering the great outdoors and the snowy slopes on skis. I was not a climber in those days. It is a long story, but it was my love of skiing that started me thinking about a career as a mountain guide. More complex terrain demanded more experience and skills, often related to climbing. It was the start of my climbing journey and all that this has entailed. My new passion was for adventures in the mountains in the summer months too and I spent many years skiing in the winter and climbing in the summer."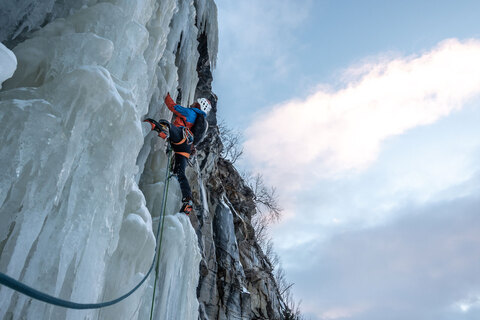 How difficult is it to become a qualified mountain guide?
"The Swedish Mountain Guide Organisation is a member of IFMGA (International Federation of Mountain Guides Associations) and it is through them that you gain the qualifications required to become an internationally certified mountain guide with the entitlement to work anywhere in the world. The requirements to start the training are extremely tough (find out more here: LINK https://www.sbo.nu/cm/sidor/utbildning/ ). An applicant must already have extensive experience of mountaineering, rock, ice and alpine climbing, and skiing to even meet the entry requirements. The training takes around 4 to 5 years. But you probably need twice that amount of time to gain all the experience that is required before applying."
How does your work life differ from a regular job?
"I guess there are both positive and negative aspects to working as a mountain guide, just as there are with most jobs. But one thing is certain, it is not like anything else. The mountains are your office in the summer and winter, with everything that goes with it. You get to experience things that most people never see or do in their working lives, and you create memories for other people that they will hopefully cherish for the rest of their days. It involves an incredible amount of responsibility and some flexibility in when you work. Plus the fact that it is a very independent job and you seldom sit down with colleagues for a coffee and a lunch break."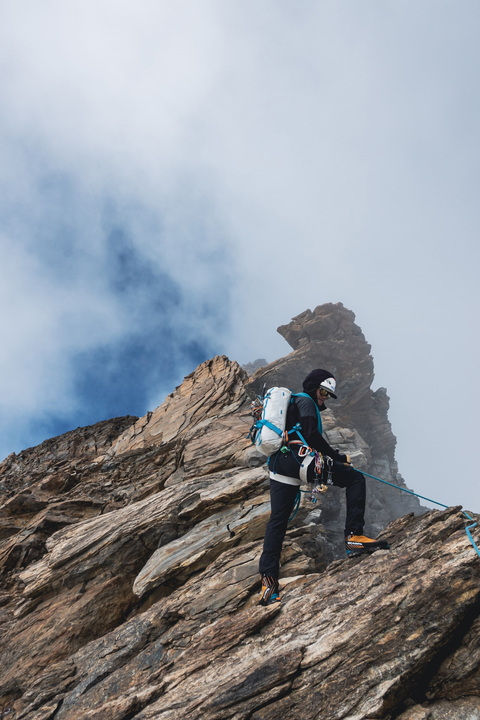 What does good equipment mean to you and how important is it in your profession?
"Good equipment is crucial. They are the tools of my trade! Safety aspects are a top priority, so the equipment has to meet all safety requirements and contribute to making my work more comfortable and efficient. If I can trust my equipment, I don't need to worry about it, and can instead spend my mental energy on guiding people in the mountains."